ALT Symposium 2018
On Monday 21st May 2018, Bournemouth University (BU) held the inaugural Assistive Living Technologies (ALT) Symposium at Talbot Campus. The Symposium was a fusion of research domains: Human Computer Interaction, Cyber‐Physical Systems, Robotics, Accessibility, Digital Health and Inclusion. The sponsor of the Symposium was EduWeb (EU Erasmus+ Project) which promotes digital inclusion within educational institutions, by providing a safe and creative web. The Symposium was organised by Dr Paul Whittington and Dr Huseyin Dogan from the Human Computer Interaction (HCI) Research Group.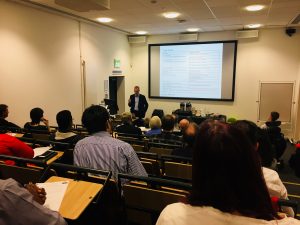 We were delighted to welcome Professor Nigel Harris from Designability, who develop products to increase dignity, confidence and independence for over 250,000 people with reduced abilities. The charity is supported by the University of Bath and Bath & North East Somerset Health and Wellbeing Board.
We also welcomed Martin Harman and John Heath from Southampton & SW Hants Remap Panel and Michael Garnish from Bournemouth Remap Panel. Remap is a national charity operating through local groups of skilled volunteers, who provide independence for people with reduced abilities, by designing and manufacturing bespoke equipment to assist with daily tasks. Designability and Remap delivered presentations on application of assistive living technologies to real world environments.
40 delegates attended the Symposium, representing the BU Faculties of Science & Technology, Health & Social Sciences and Media & Communications, as well as external organisations, including the NHS Dorset Clinical Commission Group, Possum Environmental Controls and Victoria Education Centre.
The Symposium programme was as follows. Presentations can be viewed by clicking on their titles.
09:00 – 09:30        Arrival and Refreshments
09:30 – 09:35       Welcome – Dr Paul Whittington (Bournemouth University)
09:35 – 09:40       Opening Speech – Professor Keith Phalp (Bournemouth University)
09:40 – 10:30       Keynote: The CHIRON Project – Development of an Intelligent Modular Robotic System to Support Care at Home – Professor Nigel Harris (Designability)
10:30 – 11:00       SmartAbility: Supporting Interaction for People with Reduced Physical Ability – Dr Paul Whittington (Bournemouth University)
11:00 – 11:15       Break (Refreshments)
11:15 – 11:45       Remap: a rather special charity – Martin Harman, John Heath, Michael Garnish (Remap Southampton & SW Hants Panel and Bournemouth Panel) Nellie Robot Video and Blog
11:45 – 12:15        Applications and Future Trends of Robotics in Assistive Technologies – Professor Hongnian Yu (Bournemouth University)
12:15 – 13:15       Lunch and Networking
13:15 – 13:45       ADAPT: Tackling Social Isolation Faced by Disabled People through Assistive Technologies – Dr Konstantinos Sirlantzis , Paul Oprea, Laura Day (University of Kent/Kent Surrey Sussex Academic Health Science Network)
13:45 – 14:15        An Eye Gaze Controlled Robotic Arm with Accompanying Haptic Feedback to Provide Simulated Physical Interaction Experiences for Cognitively Able Young People who have Profound Motor Impairments – Mark Moseley (Bournemouth University)
14:15 – 14:45       Tackling the Problem of Digital Exclusion using EduWeb – Dr Edward Apeh and  Zoe Carter (Bournemouth University)
14:45 – 15:00       Break (Refreshments)
15:00 – 15:30       Music Technology for Users with Complex Needs – Asha Ward (Bournemouth University)
15:30 – 16:00       FACETS: Digital Toolkit for MS Fatigue Management – Dr Sarah Thomas and Keith Pretty (Bournemouth University)
16:00 – 16:30       Panel: Assistive Living Technologies – Professor Nigel Harris, Dr Konstantinos Sirlantzis, Dr Sarah Thomas, Eur Ing Martin Harman
16:30 – 16:45       Closing Speech – Dr Huseyin Dogan (Bournemouth University)