Projects
EduAbility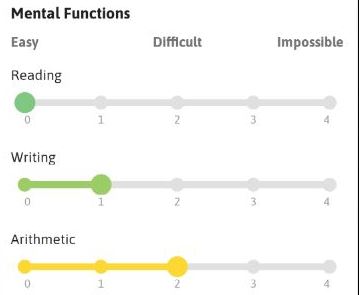 Abstract
EduAbility considers assistive technologies for education and how these can be recommended to pupils who have special educational needs and disabilities. This project aligns with the UK Government's strategy, 'Realising the potential of technology in education' that promotes the use of education assistive technologies within schools.
EduAbility is an Android Application suitable for pupils with reduced physical and cognitive abilities. The Application builds on our SmartAbility Framework by supplementing the physical abilities with cognitive abilities stated in the World Health Organization ICF Checklist. The pupils' abilities can be entered into the Application using a traffic light style grading system of, 'Easy', 'Difficult' or 'Impossible'. The Application connects with a database that currently contains 100 assistive technologies, which is continually being expanded. Based on their selections, assistive technology recommendations are provided containing information on products and external website links, to obtain further information.
EduAbility also include a training package as an add on to the recommendation system.
provides assistive technology training for teachers, teaching assistants and support staff in schools, to increase their knowledge and awareness. We believe the Application will promote inclusivity in schools for pupils with disabilities, by training staff in suitable assistive technologies to provide support. The Training Package contains information about assistive technology hardware and software, as well as articles, videos and quizzes to test the user's training knowledge.
There are 3 sections to the Training Package: Training, Learn and Videos.
Training
The Training section consists of information focusing on popular categories of assistive technology hardware and software. The information is based on literature obtained from online sources and separated into descriptions, benefits and limitations. Based on the discussions with the assistive technology domain, it became evident that these were the most important aspects to focus on for a training package. Each category has a 5 question multiple-choice Quiz, which tests the user's understanding of the assistive technology information. There is also a general Quiz of 20 questions to test the user's understanding of all the assistive technology categories. The training results will be stored in the user's EduAbility profile.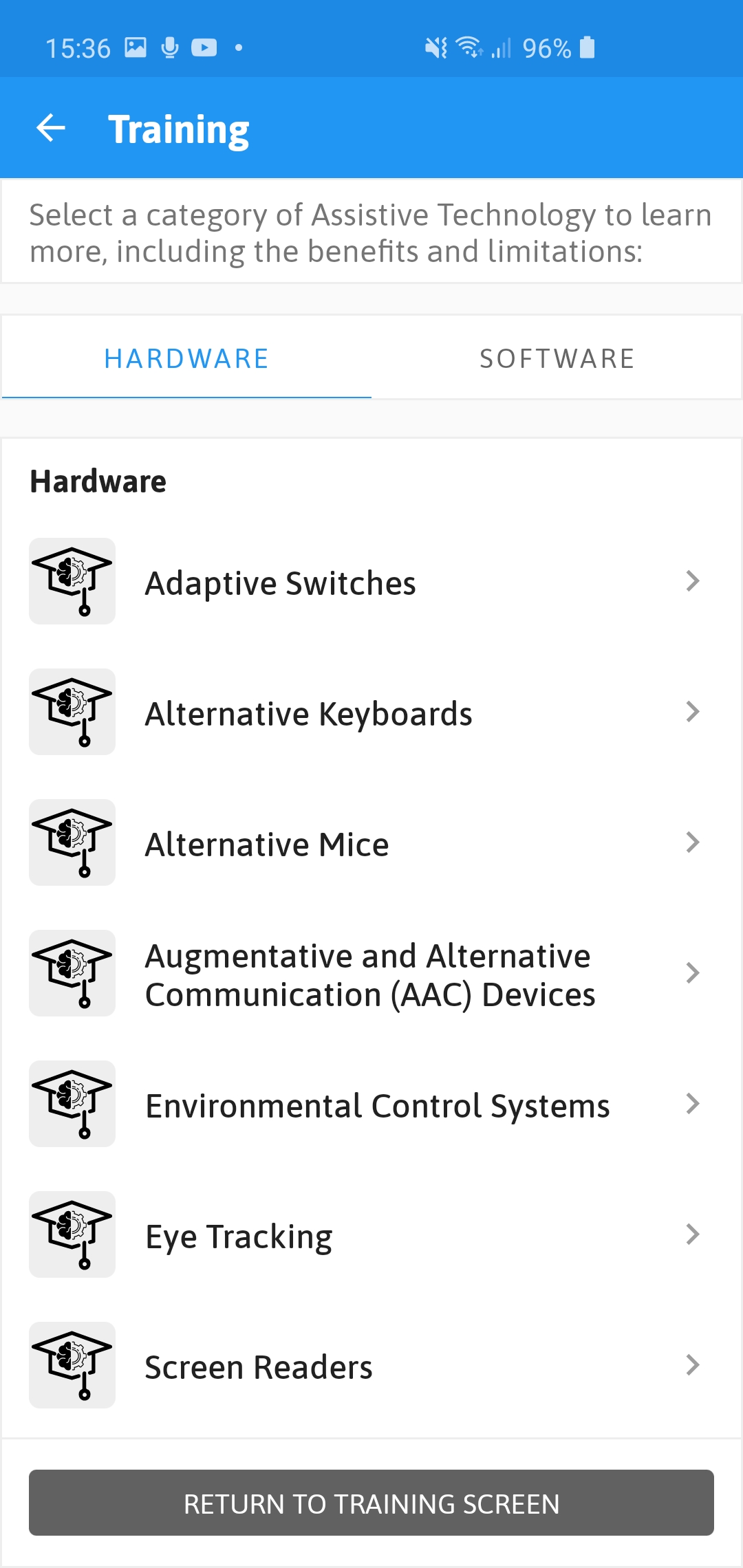 Learn
The Learn section consists of online assistive technology articles, so that users can find out more information about the general use of assistive technologies.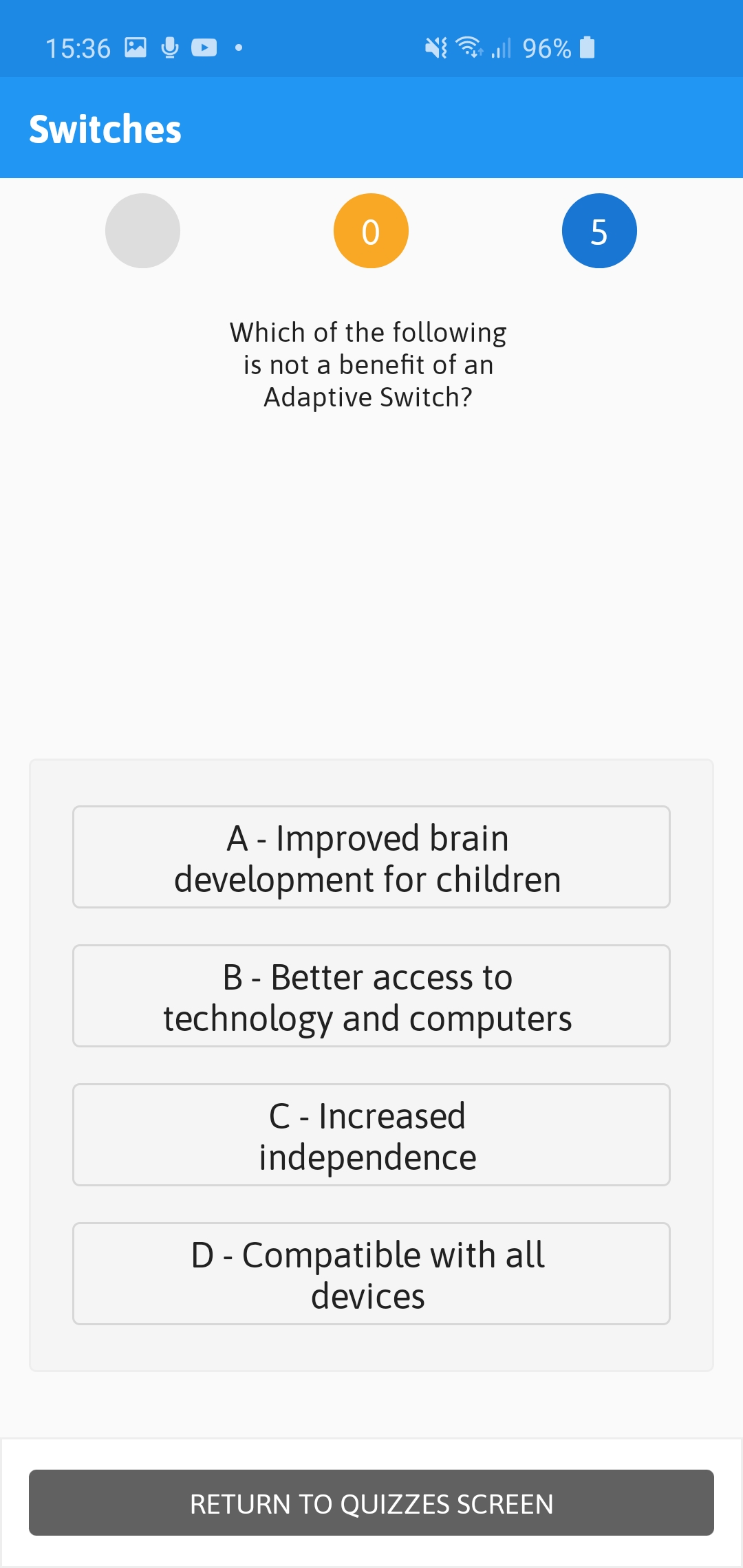 Videos
The Video section contains a selection of YouTube videos to illustrate real world examples. These provide further information and context to the assistive technologies.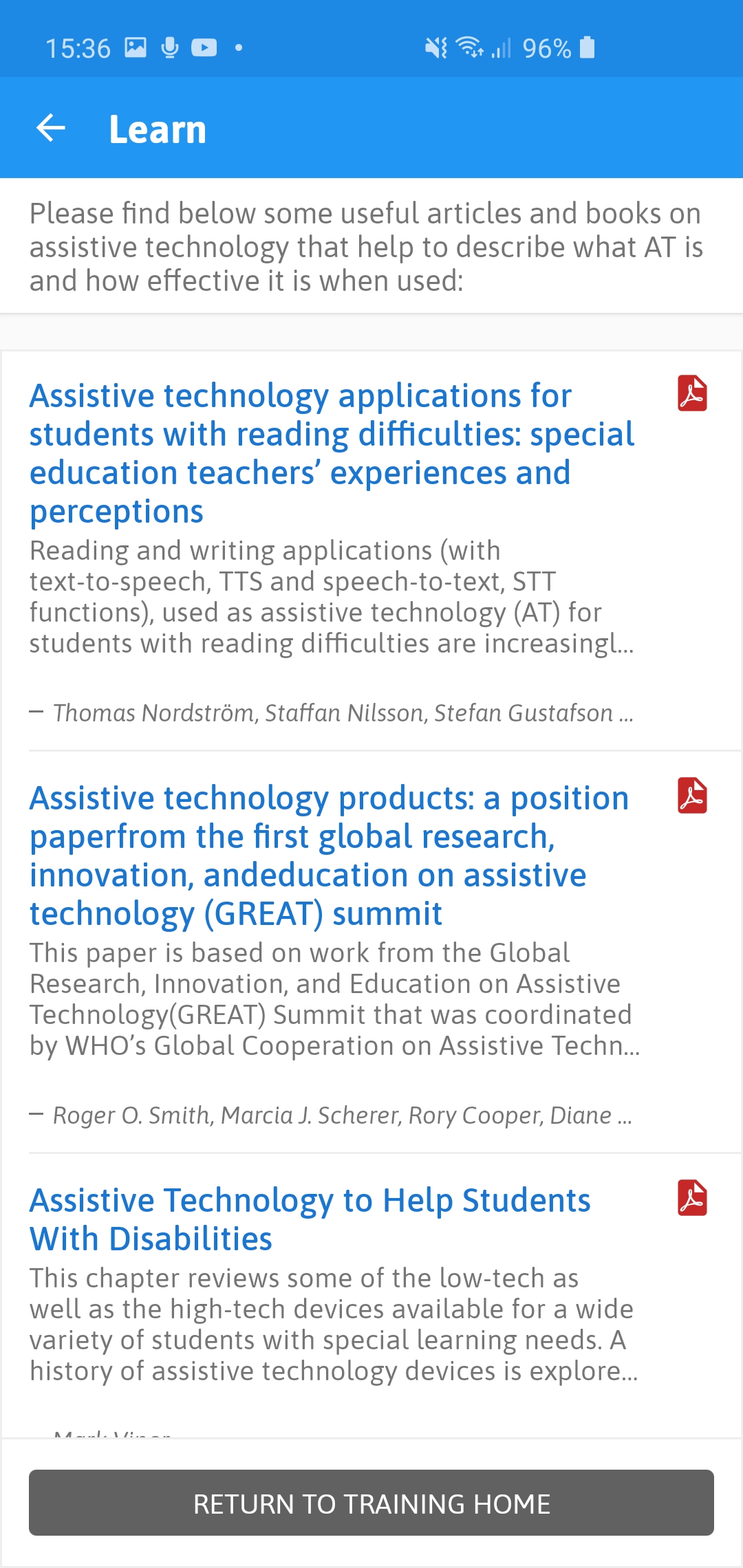 We believe that the recommendations provided by this Application will improve pupils' access to education through the use of assistive technology. EduAbility will be released publicly during 2023 and available as a free download on the Google Play Store. The application is currently available as a closed test to invited users. We are planning to conduct usability evaluations involving people with reduced physical and cognitive abilities, as well as contacting Learning Support Departments at special educational needs schools, mainstream schools and higher educational institutions including Universities. If you are interested in becoming involved please contact Dr Paul Whittington, whittingtonp@bournemouth.ac.uk
Researchers
Dr Paul Whittington
Lecturer in Assistive Technology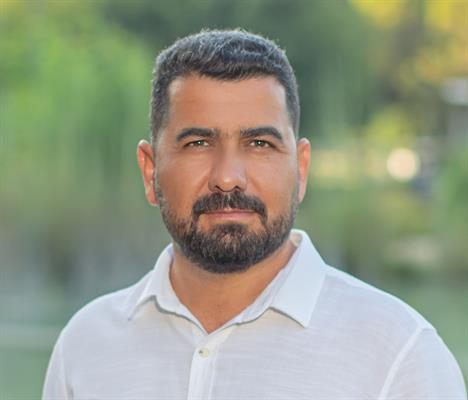 Dr Huseyin Dogan
Associate Professor & Acting Deputy Head of Department